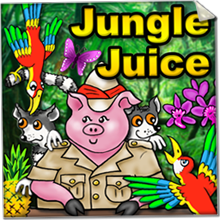 Jungle Juice is a hilarious game of capitalism, adventure, strategy and cunning for compatible Amazon Kindle e-readers.

Betrayed and stranded in a foreign jungle, Arnold Pig needs money to find a place to sleep, escape a monsoon and eventually make his way home. Like Lemonade Stand, use the news & weather report to decide your price and what juice to prepare. Once you're ready, begin the day and watch the cash roll in!
Meet 40 characters including a shrewd camel, prankster octopus, and dangerous criminal. Deal with friends, foes and charlatans in 3 interactive story modes with multiple endings. Your decisions make the difference between massive profits and bankruptcy!

Buy stock and customize your recipe & cups
Enhance your stand with 28 upgrades
24 Trophies unlock game bonuses
Compete for high scores
80+ dynamic special events
Different every time you play
Hidden challenge for expert players
Jungle Juice is for anyone wishing to use ingenuity to amass fabulous riches, plus a fun way to teach basic economics, applied math and vocabulary!
---
Media
View screenshots and videos of the game in action.
---
Forums
Visit our forums for gameplay hints, strategy tips, general help and discussions.
---
Buy the Game

Buy the game on Amazon.com and have it transferred directly to your Kindle! (We'll be eternally grateful.)